Plumeria Seedlings



| | | |
| --- | --- | --- |
| | Plumeria Seedlings | |

Plumeria Cuttings Available Now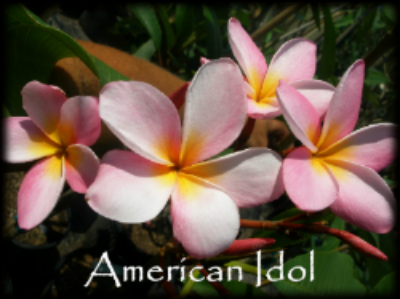 American Idol
Brilliant pastel colors on this plumeria. Pink buds open to white, light pink to pastel pink along one edge. Golden yellow flows out from the center. Has a distinct pink stripe on reverse. Floral frangipani fragrance. Easily rooted. Medium sized tree.
Aztec Gold
Very intense large golden yellow 4" blooms fading to white, with faint pink edging showing through from the back, along the edges. The overlapping petals are oval with rounded tips. Very good keeping quality and easy to cultivate, making it a great Plumeria for beginners. Known for it's strong Peach fragrance.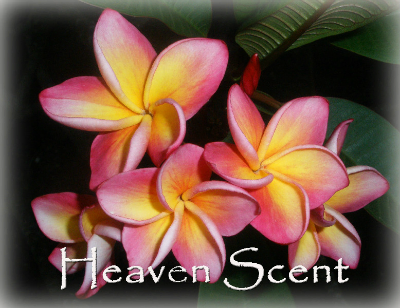 Heaven Scent
Early bloomer with red buds opening up to an exquisite blend of shocking pink, yellow and white 2.5"-3" flowers. Moderately overlapping petals have pink veining on top, strong pink underneath. Good keeping quality. Very vigorous grower, medium sized tree with a tendency to produce multiple branches. It has a very heavenly floral fragrance. A real showstopper!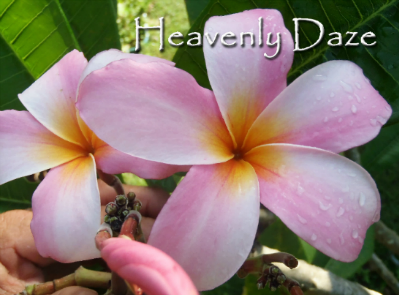 Heavenly Daze
aka 'Chompoo Nut', 'Slaughter Pink'.
Very intense coloration. Beautiful 3" to 3.5" Pink flowers with a yellow throat and some orange veining spreading from the eye. Has an upright growth habit. Nice Frangipani Fragrance. A wonderful addition to any plumeria collection!





Hong Kong
Beautiful White 2.5"-3" flowers. Hybrid seedling of Singapore, developed in Florida, branches freely without having to bloom first. Lovely strong citrusy fragrance. Usually has 6 petals, sometimes 7, instead of the typical 5 of most Plumeria. Foliage: Deciduous-Smooth-Textured Shiny/Glossy-Veined-Leathery. Pretty and fast growing, little tree!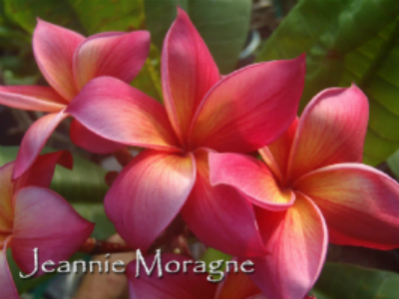 Jeannie Moragne
PSA Registered "161. Amazing 4-1/2" -5-1/2" star shaped vibrant red flowers fading to reddish pink, large golden yellow bands and pinkish orange lines radiating outward, slight overlapping, heavy texture, strong fruity sweet rose fragrance. There is a grainy overlay of red-purple light on the left side of the petal and becomes a dense stripe on the right which forms the apparent shades of red and orange. Good keeping quality. Tall vigorous growing tree. This one is beautiful!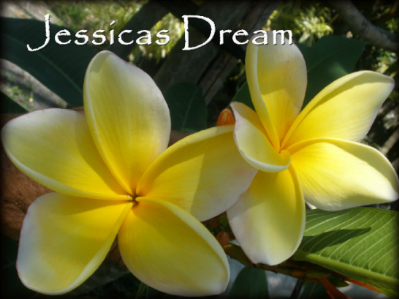 Jessica's Dream
Buds are a mauve pinkish color opening up to stunning clusters of golden yellow, some white along the edging, 3" blooms with a small orange-gold eye. Petals fade to a lighter yellow- white. Strong peach fragrance on a medium sized tree. Longer than usual bloom period. Very good keeping quality and easy to cultivate, making it a great Plumeria for beginners.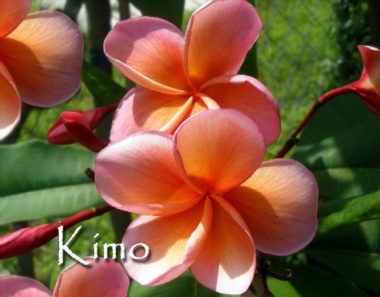 Kimo
Beautifiul 3" blooms of strong orange-yellow to glowing apricot-yellow with strong medium pink bands on front and back. Color is more intense in the warmer climates. The wide overlapping petals almost form a complete circle. Medium-tall well branching upright (compact growth habit) tree. Heavy texture and keeping quality. This Plumeria has a strong sweet, floral, fruity, fragrance.
Lemon Ade
Magnificent thick clusters of pure snow white 2 1/2 -3" blooms with a creamy yellow center. A well branched semi-tall tree. Excellent keeping quality. Good bloomer. Very easily rooted. Good for pot culture. Great first time plumeria. Very strong Lemon fragrance.





Lillianne
Big 3.5"-4.5" Flowers! It is soft and delicate! It is a prolific bloomer and produces an abundance of bouquets! Very strong Tropical Fragrance. A medium sized well-branching tree.
A truly elegant Plumeria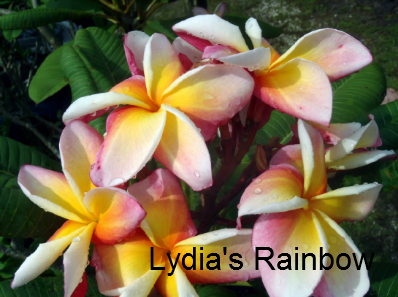 Lydia's Rainbow

Big 4"+ flowers of rainbow coloring. Nice spicy fragrance.



Miami Rose
Large clusters of Pink 2-1/2 inch flowers with round petals, rose pink background and light pink bands with a golden yellow center. A very strong grower with a long bloom season. Suitable for pot culture with appropriate pruning. A very strong fragrance of coconut oil or suntan lotion. PSA #187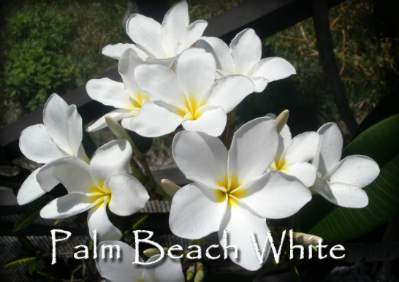 Palm Beach White
Beautiful Elegant White 3" flowers with a small golden yellow center. Will grow in ground to a medium-tall, well branching sized tree. Can be contained in pot culture. Beautiful frangipani fragrance. Gorgeous, easy to root plumeria. Great one to start your plumeria collection.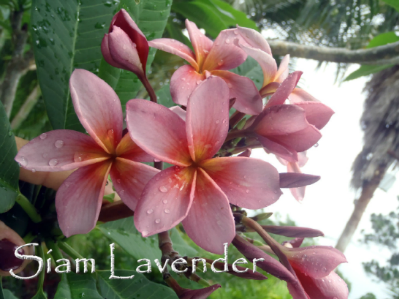 Siam Lavender
An imported Thai beauty. This is a stunning cultivar from Thailand. It is truly a lovely shade of lavender with a burnt fire orange/yellow center that contrasts beautifully. It produces gorgeous 3"- 3.5" showy blossoms and has a lovely, sweet floral fragrance. Tree has a medium growth habit with multiple branching. Excellent for container culture.